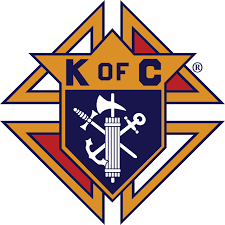 St. Dominic Catholic Church Council 7232
 Knights of Columbus 
Forty Cans of Lent
Good day St Dominic.  
Due to the physical distancing required by the pandemic we must modify Forty Cans of Lent. This effort supports the pantry St Vincent DePaul provides at our church for the community. We will not be distributing bags but hope you participate by following the calendar provided here in the bulletin. If you did purchase food for the drive, please deliver it to the pantry on the days they are open.  (Tuesday and Friday between 9-11am) The church office will accept donations and inform St Vincent DePaul if you are not available on either of those two days.  Finally, in the Sundays of the drive, the 21st and 28th of March we will set up a table in front of the St Vincent DePaul office for drive-by donations. 
At this time, the pantry is supplemented by the San Antonio Food Bank, but donations are greatly needed and appreciated.  The pantry provides take home packages for families of the community.  Per family, the packages are a minimum of 50 pounds of food.  They normally consist of canned goods, pasta, peanut butter, and cereal, along with refrigerated items like milk, eggs, bread and meat.  
The following is a list of items highly desired during this can drive: 
Canned items like veggies, fruit, beans, soup and whole/diced tomatoes
Boxed items like pasta, cereal and ramen
One or two pound bags of pinto beans.
Due to space limitations the more consistent the products received, the easier they are to store and distribute. The efficiency of the food bank allows the pantry to purchase most of what they need at a good price, so cash donations are also welcome.  This gives the pantry the ability to purchase what they need from the food bank and aid their client in additional ways.  We praise St Vincent DePaul for all the good they do in this time of greatest need.  I will continue communications with St Vincent DePaul and hope we can continue to help them during this difficult time.  Thank you all for allowing us, the Knights of Columbus to be part of your community as brothers in Christ.  We plan to provide follow-ups to allow our congregation to know how things are going.
Stay Safe
One Body
Sebastian J. Luna
Grand Knight Council 7323
  210 413-7438
Thanks to the efforts of Father Michael J. McGivney, assistant pastor of St. Mary's Church in New Haven and some of his parishioners, the Connecticut state legislature on March 29, 1882, officially chartered the Knights of Columbus as a fraternal benefit society. The Order is still true to its founding principles of charity, unity and fraternity.
The Knights was formed to render financial aid to members and their families. Mutual aid and assistance are offered to sick, disabled and needy members and their families. Social and intellectual fellowship is promoted among members and their families through educational, charitable, religious, social welfare, war relief and public relief works.
Thehistory of the Order shows how the foresight of Father Michael J. McGivney, whose cause for sainthood is being investigated by the Vatican, brought about what has become the world's foremost Catholic fraternal benefit society. The Order has helped families obtain economic security and stability through its life insurance, annuity and long-term care programs, and has contributed time and energy worldwide to service in communities.
The Knights of Columbus has grown from several members in one council to 15,342 councils and 1.9 million members.  
Our council at St Dominic has been in existence since the seventies.  Catholic Gentlemen have given of there time, talents, and hard work to give back to the community.  The Knights of Columbus is a nonprofit organization.  Every dollar we take in is goes back out to the community if several ways. The Knights support the Church, church ministries, and the community at large.  Come join our fraternal brotherhood and help make a difference in OUR COMMUNITY.  
Please reach out to Grand Knight Sebastian Luna
Cell  210 413-4738